The logo I designed for Atlas Brew does a splendid job of delivering to company's message. I have a passion for storytelling, Stories are dynamic tools, they can evoke emotional responses and can teach us about expe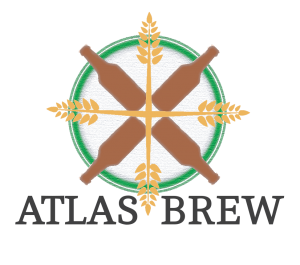 riences other than our own. I wanted my logo to tella story that wouldn't need much background. It needed to have a straightforward message while at the same time have eye catching qualities.
Atlas Brew's mission is to education the general population on the growing global craft beer culture. I initially knew I wanted the design to be a compass because I wanted it to represent the global audience the publication reaches. A beer bottle element seemed to be a given and originally I have the four compass corners with a beer bottle. I used green for the rings because it represented the freshness and growth of the craft beer industry. I overlaid the design with some texture and thought I was done. Something didn't feel right though and I realized it was because the beer bottles weren't pointy like the arrows on a compass. It looked more like a ships wheel. I decided to go back to my original sketches and figure out what was missing.
The wheat leaves were exactly what the logo needed! Not only are they a symbol of how beer is made but they are pointy! I rotated the compass, added the wheat leaves and was pleased with the result.
In terms on font I know sans-serif is very in right now but I wanted to give the compass a worn feel. I found the font cambo on font squirrel and thought it did a nice job of conveying the publication message. I went with a very dark grey because the black felt to harsh. Overall I am very happy with my logo and I know it does a great job of representing Atlas Brew.