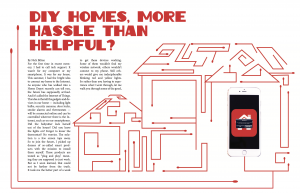 Starting out with this project I found it difficult to decide which story I wanted to illustrate, and started to think of designs for each option. I settled on the DIY home story because I really liked the idea of designing a house made up of electrical wire, (or some kind of wire message service that would connect different aspects of a smart house) better than anything else I had conceptualized.
After I settled on the house component of the design I needed to find a way to tie in the story's message of a failed DIY home system. I also needed to portray that the house was specifically a smart home, that can be remotely controlled, and not just a random house with a lot of electrical wires. This lead me to decide I somehow needed to integrate a cellphone or tablet into the design. After deciding on all of the components it was fairly simple to come up with a design that wold fit both a house and a phone in a way that made sense. I made a portion of the house the right size to insert a mobile phone in it. The phone is larger proportionally to the house to signify to the viewer that this is  a home controlled by remote technology. An error message appears on the phone screen to show the dysfunction of the DIY home, and the red color of the wires was chosen to heighten the idea of error or malfunction.
I really like how the whole design came together, and I think the illustration matches the picture like quality of the cellphone. I also decided to continue the design of the house onto the rest of the article with the red "wires" wrapping around the text. To keep up with the dominate red theme I made the headline text the same red color used in the home and the cellphone background.