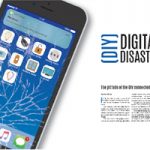 For this project we were given magazine stories that needed illustrations for the layout. The stories were all tech-themed and to be honest I had a little trouble being inspired by the stories. It took me a while to pick a story (I started designing and sketching for a completely different one) before my idea for this one popped in to my head.
What I really wanted to get across for this layout was the phone that controls every aspect of the house. You have security features, lights turning on and off and changing colors, smoke alarms, the thermostat, everything being controlled by the phone (most of those were mentioned in the article, I added a few extra to have more apps on the illustration so it didn't look empty.) And then you have the cracked iphone screen to show that maybe controlling everything with your phone isn't the best way to do it – yet. It gets complicated, as mentioned in the article, and things can go very wrong. I also indicated this with the message popping up from the house asking if this guy actually knows what he's doing.
As for design decisions, I went with the font Antonio because it has a modern, slightly futuristic vibe to it but without being too cliche. I matched the blue color of the DIY to the phone background. I was torn between doing the blue, using the green from the message app, the red from the alert, or grey to indicate a techy feel. I ended up choosing blue because I felt it still indicated a techy feel to it and it looked the most balanced. I also added that tiny red alert 1) to bring in a little more color from the other page 2) to indicate again that something was going wrong.
I chose a serif font for the body copy because it is easier to read, I went with garamond because it was simple and clean, like the rest of my design (I hope that came across). I tried to keep the body copy simple and inside a grid to make it look clean and not cluttered, it lines up with the title of the article. The deck is the same Antonio font to keep those tied together. And I kept the background white because the phone had a decent amount of detail and I wanted to keep everything else as simple as possible.