For my influence project, I chose Saul Bass as my designer. Whenever I first saw his work, something about it captivated me. Since then, I've been inspired by his work. Prior to this assignment, I had done research on his work and his background. I found a website that housed his archive of work and used this as a pointer for what to design for my poster. I was originally inspired by "The Man with the Golden Arm", as it was an interesting and different take on a poster. The geometric arm and the shapes that surround it catch the eye and draw in attention.
It was the color on the "Anatomy of a Murder" poster that inspired me to choose a colored background. Since the poster was about Little 500, I chose to make the background the official Indiana University crimson color based off of our branding information. From there, I used the inspiration of the black and white found in "The Man…" poster. My original idea consisted of just a biker's head in the black and white with random geometric shapes around it that seemed inspired off of his work. When I went to rework my design, I decided to go a different route and use a bicycle instead. I eventually decided that I wanted the geometric shapes to form a checkered flag almost and with a little room for the bicycle I designed up, this idea worked out.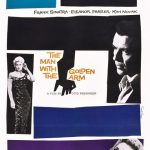 For the font, a classmate recommended a font off of dafont.com called Flowers Kingdom that seemed like a font that could closely resemble the typography of Bass's work. I agreed after looking at the font and used this for the design. I wish I could have found a more "readable" font for the lower information that would have fit the aesthetic of the poster, but unfortunately nothing fit the design.
Overall, I enjoyed this influence project immensely. I found it to be a rewarding and yet challenging project. My first try with this design did not work out and it may have been for the best because I feel incredibly happy with the way this second try turned out. It feels inspired, but also feels original in some sense. I also enjoyed being able to work with a real event that is coming up soon. If I could change anything, it would have been the font on the bottom, as mentioned before, but otherwise, I feel pretty proud of the way this design worked out.