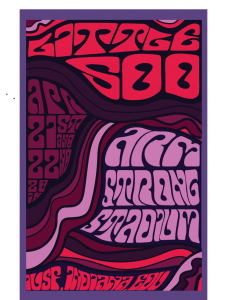 I have always been drawn toward Psychedelic design because I associate with music, art, and general color schemes of the 1970's. When I saw that I had the opportunity to create a poster based on any type of design, I jumped at the chance to challenge myself to learn how to create the wavy movement of the psychedelic graphic design style.
As I was researching the previously created psychedelic designs, I found myself drawn toward Bonnie MacLean and Wes Wilson. Both of these artists used lines and text to create dimension and movement within their designs that align with the "free spirit" stereotype of the 1960's and 1970's. Both artists ended up in San Francisco and are best known for their promotional rock concert posters that were spread around the Avalon Ballroom or Bill Graham's Fillmore Auditorium in San Francisco. Their iconic and ultimately unique designs helped to change the face of rock-n-roll, as well, as the overall graphic design landscape. These two designers filled almost every inch of their posters with lines, variety of colors, and a new melting typeface. Both artists have had their works in displayed in museum exhibitions nationwide including the: MoMA and Philadelphia Museum of Art.
Wes Wilson is known as the man who was the first to use psychedelic design by incorporating a typeface that came from the Viennese Secessionist lettering he found in a University of California exhibition catalogue. Wilson built the scene around psychedelic rock concert posters while working with Bill Graham owner of the Fillmore. After cutting ties with the Fillmore and Bill Graham, Bonnie MacLean took the stage. Doodler turned graphic artist, Bonnie MacLean and Bill Graham were a dynamic duo. Bonnie followed the psychedelic traditions established by Wes Wilson, but added her own touches including facial expressions to her designs.
For my overall Little 500 Influence poster, I aligned with MacLean and Wilson's psychedelic style through the use of colors, lines, text, and layout.
While looking at MacLean and Wilson's works I associated with this deeper cranberry tone featured in some of their work. This cranberry tone, added with a variety of pink and purple tones to add depth, but consistently and similarity throughout the design. This deeper cranberry color is something that I think of in general when I think of the late 1960's and 1970's, specifically with Funk, Soul, and Groove genre's of music. This color is one that I associate with, and is why I associated with Wilson and MacLean's work. I wanted to use generally similar colors throughout the design to not add too much contrast. I noticed that within the psychedelic design category that graphic artist's generally had an extremely high amount or low amount of contrast with color throughout their poster designs. While looking through posters designs I was more attracted to the designs that had a lower amount of contrast because they seemed to flow more and not have the "WOW I'm in your face" type of feel. For some of the colors I was inspired by a newer graphic artist that goes by the Instagram handle @Patersinister. He created a poster for one of my friend's music festivals and I really liked the colors that he incorporated. They gave off a lighter ambiance and overall tone for that music poster, when compared to the darker toned posters created by MacLean. I tried to incorporate the use of both of these tones of colors.
I generally fiddled with a few different ideas for my poster, but ultimately decided on this design because movement I created with the lines. To create these lines I first looked at how these two artists utilized lines in their designs. I liked how the lines had multiple dimensions and different types of pen style strokes. I first drew all of the lines in my design as a stroke of 1. As I added color, and altered my lines, I found that I now could change the weight of the strokes to add dimension. These lines ultimately were supposed to be representative of bike lanes or a path that the bike was following. The lines were also supposed to be barriers to break up the information featured in the design to help de-clutter a full poster.
For the text, I looked on DaFont.com and found a font called JMH Psychedelic CAPS by Jorge Morón. I searched on DaFont.com for groovy, funky, and psychedelic fonts and this one was the most reflective of Wes Wilson's usage of the Viennese Secessionist type. The type was probably the hardest part to maneuver throughout the document. I used a warping process where I created a shape with the pen tool and then warped the text to that exact shape. This took some general tinkering, but I liked to see my idea come to life as I completed the text portion. It was pretty fun honestly. I enjoyed using the envelope warp tool in Adobe Illustrator to create this design. It was interesting how the slightest change in a line would change the text. I worked with adding an outline to text blocks, but it seemed too crowded so I let the text naturally stand with an empty stroke.
I was unable to incorporate the facial expressions that Bonnie MacLean is known for. I wanted to originally incorporate a rider on a bike, but I couldn't think of a proper way to make the bike associate with the time period. So I used text and incorporated color. This design doesn't relate to IU by any means what so ever, but I think that is why it is so attractive to the eye.
During the class critique, I was pleased to hear that my classmates generally liked my initial design, but agreed when the bike that I originally had in the design was not fitting with the overall poster. I took the bike out and incorporated new text into the design. Otherwise my classmates had great things to say about my poster. Professor Layton agreed about the inconsistency of the bike icon and asked that I incorporate the brighter pink color into my piece. I added that brighter pink color, deleted the bike, and added a filter to age the poster.
Overall I am more than satisfied with my work specifically because I got to learn something completely new that challenged me during the process. This time consuming design was well worth the detail and thought process because I was able to see something that I was inspired by come to life. These two designers are definitely reflective of my design style (specifically with color) and I hope to be influenced them throughout my future projects.
All work that inspired this piece can be seen in the carousel below. I have also included some of my sketch designs. Enjoy!!
This slideshow requires JavaScript.