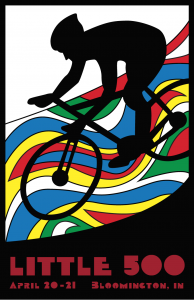 For this project, I decided to use Milton Glaser's work as my inspiration. Specifically focusing on his iconic Bob Dylan poster (see below). Glaser's style is aesthetically pleasing to me. I really enjoy retro graphics and wanted to experiment with that. Before I began preliminary sketches, I researched Glaser's work and took note of reoccurring design elements I could utilize. Some examples I found were striking color, use of white space and/or pattern(s), silhouettes, purposeful proportion, and more. Once I established the overall look I hoped to achieve, I roughly sketched many options with different imagery, crops, etc. Eventually I narrowed my idea down to a biker silhouette riding on a colorful, swirly racetrack with text "Little 500", the date, and location spread across the bottom.
The next steps in my creative process started with more sketching. I drew the biker silhouette in further detail a couple of times before drawing it with the pen tool in Illustrator. This was probably the hardest part of the assignment. Looking at photos of little 500 bikers online helped me translate a complex action into a graphic icon. I also drew variations of swirly lines on the racetrack before using the pen tool. Some were more linear, some more circular. A good mix of the two is what I went with.
Producing the rest of the poster (typography, border, the black shape under the track, etc.) was fairly simple. I found the typography online by searching "Milton Glaser fonts". The typeface is called "Baby Teeth" and is almost exactly like the typography in the Bob Dylan poster. (Due to licensing restrictions, this typeface cannot be viewed in the PDF online. I took a screenshot of the PDF, which is what the viewer will see instead.) My favorite part of creating this poster was adding color in the end, especially on the racetrack. As Steve suggested, I incorporated the Little 500 flag colors. Typically, I design everything in black and white first and then add color.
All in all, I had a lot of fun with this project in the short amount of time I had to make everything come into fruition. I would like to continue making posters in Glaser's style and also explore other graphic designers' work as inspiration. When I was choosing which designer to do, I made a short list of others I also like.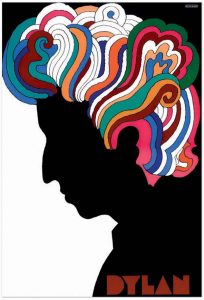 This is the Bob Dylan inspiration poster I referenced for this project by Milton Glaser.