This Little 500 poster was influenced by the designer Bradbury Thompson. I chose this artist because when I saw his art, I could visualize a poster in this style. I was attracted to the bright colors and modern look. His style of artwork was best well known for his usage of cyan, magenta, yellow, and black coloration. However, throughout all of his works there is always a deliberate use of color and typefaces.
Because of this, I was careful to think about the typeface specifically. I used the Alphabet 26 he invented, in which the a, m, n, and e are lowercase letters but the same size as the capitals. I used a font called Libre Baskerville I got on Google Fonts, because I liked it better than the Baskerville that came installed on my personal laptop.
As for the design aspects, I wanted to use the CMYK colors he was most known for because it is eye catching and appealing. He had several works that I directly took inspiration from when thinking about the repetition of biking figures, which are pictured in this post. I debated using real photographs of Little 500 bikers, but ultimately decided I wanted to create a more illustrative set of bikers.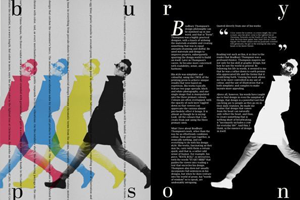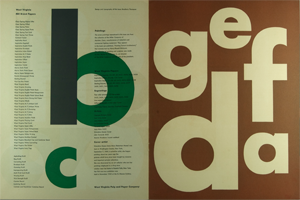 I took an image of a biker and predominantly used the pen tool, basic geometric shapes, and pathfinder to create this graphic image of a biker. It took a few tries to get it just right – I had created the person as one complete image, then the bike, and the wheels. But, they needed to be layered correctly so as the legs were on the correct side of the bike and likewise the arms/hands to the handlebars. I had to go back in a couple of times and make adjustments. Overall, I really liked the way it turned out with these images. I think they work as a good focal point of the poster. On the plus side, there are four bikers per team in the Little 500 race, so having the four CMYK depictions worked out nicely.
For the layout of the text, I opted to center the top parts (Little 500 and Armstrong Stadium) so it balanced better with the bikers. However, when writing the Mens and Womens race dates, I decided to align one to the right and the other to the left. I did this because in a lot of Thompson's works, his text is spread out all over the page and has unique alignments. I didn't want to stick to all center-aligned and I think this worked out fairly well.
I looked up many artists and it was hard to choose just one. This was a very fun project and perhaps in the future I will do more influenced designs just for fun.