For my conceptual design I chose the CO2 topic regarding gamefying emission outputs. For this I chose to play on the "game" of it by depicting a large factory with chess pieces as smokestacks and the clouds from their emission slowly turning into soft white clouds.
I chose this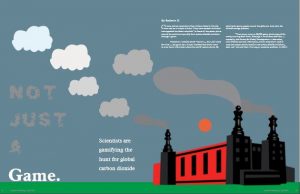 image because in my mind, it seemed quite striking. I love chess and the design of the pieces always strikes me as very powerful and meaningful. They are also tall and slender which makes them perfect for my needs.
My idea came from a combination of things, mostly from the images I have always seen associated with pollution. Billowing smoke coming from huge smokestacks. This is not only an image I have seen in media, but everyday life as well. The image of that is vital to my thought process and I wanted to connect it. I also wanted to show the power of this "Gamefication" by showing the clouds becoming less and less dirty as they went up into the sky. This hopefully conveys a sense of progress.
I wanted to have my design have some hints of constructivist design. That is why the factory has an angular design as well as heavy red and black tones. I wanted this to contrast with the open blue and green of the sky and ground below.
I wanted to have the clouds come across the pages until they finally appeared clean. They direct the eye to the Factory and I think it has a powerful effect in forward or reverse.
I chose the chess pieces and constructed them from scratch using a 3d revolve. Chess is  one of the greatest game ever conceived and certainly one of the most iconic, so I knew it would work in the image. I had also originally planned to have Dice for the windows of the factory but decided it would be too much for one image.
For my main title I used the After Shok font, which comes across as highly stylized and mucky, this segues into the clean serif of Georgia for the last word of the title as well as the body. I feel as though the change of font and font color is justified here as it sends the message of cleansing.
For the headline, I chose "Not Just a Game" which conveys the theme of the article as well as the imminent threat of pollution. Also, having "Game" as the last word proved useful for visual creativity.
For colors outside of the factory, I wanted some spring light colors that showed a world worth protecting. The whole design together sends a powerful message and I thing gets the point across of the article in a creative way.