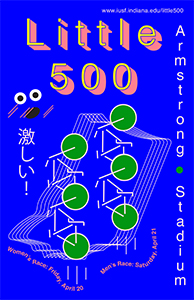 Tadashi Ueda is a young Japanese graphic designer who was born in 1988. Ueda now works primarily as a commercial graphic designer, though most of his Tumblr is filled with fanciful posters knocked together in his spare time. His works are like poems, which is concise and draws poetic meaning from observations of the everyday.
I choose Ueda as my influence is because his works show minimalism in a complicated expression. Sometimes his designs look messy but organized in some way, so that people don't feel crowded but impressive. When the first time I saw his work, I felt it looked wired. But the more times I looked at his works, I found they are meaningful and attractive. Ueda's works use lots of geometric elements and very saturated bright colors. Some colors are highly contrasted but create harmonious and balanced feelings. There are also many repetitions of a pattern. He likes putting main graphics in the middle. He likes adding humor to his design by using shapes or cartoon-like characters.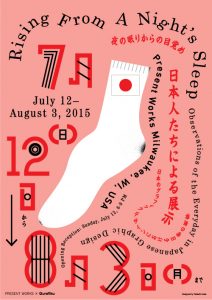 In my design, I tried different colors for the background that are similar with Ueda's design, but they are not as bright as Ueda's even though I used eyedropper to pick up colors from his works. Then I realized it was because my color mode was CMYK color, so I created a new file with RGB color. Bright colors help people see the poster from long distance. I noticed that Ueda always use sans serif fonts in his designs, but I couldn't find same one. I choose Helvetica for all text. For the title, I added transform effect to make it bold and eye-catching. I also added Japanese word "激しい" which means excited. It helps make the poster more Ueda's style. I duplicated four bicycle shapes as the main visual section because most little 500 teams race with four people. Behind the bicycle shapes are the map of Indiana that represents the racing track. I also made a cartoon character that looks funny and surprising to add some humor. The information about women and men's racing dates are tracking along the shape of Indiana map and high-speed symbol, just like what Ueda did in his poster. Overall, I think my poster looks like Ueda's work and I hope other people can like it too.